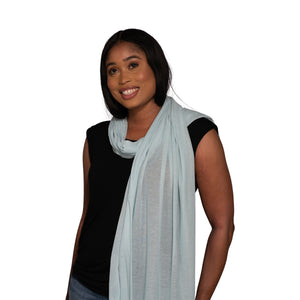 The Turban Headwrap Scarf Hijab Head Tie Stretch Jersey by Jamgal is EXTRA LONG measuring 70 inches long and 33 inches wide to fully cover your head/hair regardless of hair length and thickness. They are versatile and can be worn as HEADWRAPS, SCARVES, HIJAB and URBAN TURBAN. Jamgal's headwraps come in over 20 different colors. They are made from stretchable KNIT JERSEY FABRIC that is soft, breathable and  wrinkle resistant. They are easy to style and will take any outfit from drab to fabulous. Never have another bad hair day with this product.
EXTRA LONG and WIDE: Do you have Big hair, locs, braids or a fresh big chop? This Jersey Turban Headwrap is perfect for you. With a generous 70 inches long and 33 inches wide, it will fully cover your hair regardless of length and thickness. It is great for headwrap turban for natural hair and ethnic hairstyles.

VERSATILE: Each Jersey Turban Headwrap can be worn in 10+ different ways. From the front knot, low bun, hijab, bow and turban style on your head to a stylish scarf to dress up your outfit. There is no limit to the ways to wear your Jersey Urban Turban Headwrap. We offer the headwrap in over 20 different colors. Pick up one of our 2 packs or buy multiple for layered styles.

SOFT, WRINKLE RESISTANT and COMFORTABLE : Each Jamgal Headwrap is made of wrinkle resistant cotton jersey fabric. It is soft, breathable, lightweight and designed with your comfort in mind. The soft stretch characteristic makes it mold easily to your head and stay in place through out the day or night.

EASY TO STYLE: Each Jamgal headwrap is easy to style. Wrap it around your head and tuck in the ends for easy hold. You can drape it around your neck or shoulders for additional sides.

100% MONEY BACK GUARANTEE: Jamgal's Jersey Turban Headwraps are backed by a 100% money back guarantee. Our purpose is your complete satisfaction. If you have any questions of issues with your product please contact us for hassle free return or exchanges.